There is nothing like catching your first shark. And absolutely nothing like Key West Shark fishing. Key West is home to a vast variety of sharks. There are Lemon sharks, Bull sharks , Tiger sharks, Hammerhead sharks, Bonnet head sharks, and the list goes on and on.


Fighting these beasts can take up to hours! With a body of pure muscle it is like hooking into a runaway freight train that is trying it's hardest to brake off the tracks.
The gear is heavy, no mono leaders used, just steel.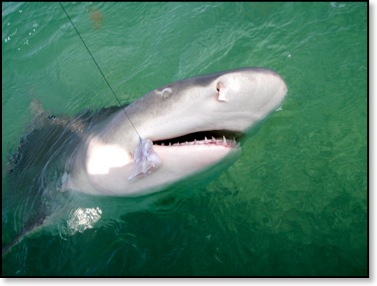 We begin by catching fresh bait that we can use as chum to lure the sharks close. The scent of fish blood rapidly travels through the water bringing sharks within minutes. Once the water is chummed we put baits out and prepare for the hook up. Boom! Fish is on, the lines scream and a spinner shark jumps in the distance. The fights are intense and exciting lasting quite some time. Once the shark tires we pull them close enough to cut the line and release back into the wild.

For Reservations Call OR Email Captain Nat Sampson
305-393-2252 Email Captainnat100@yahoo.com